Hey, Lewiston & Auburn!
Did you know that we operate out of a location right near you? We'd love to connect you with a stellar local confidential shredding service and help you streamline your business.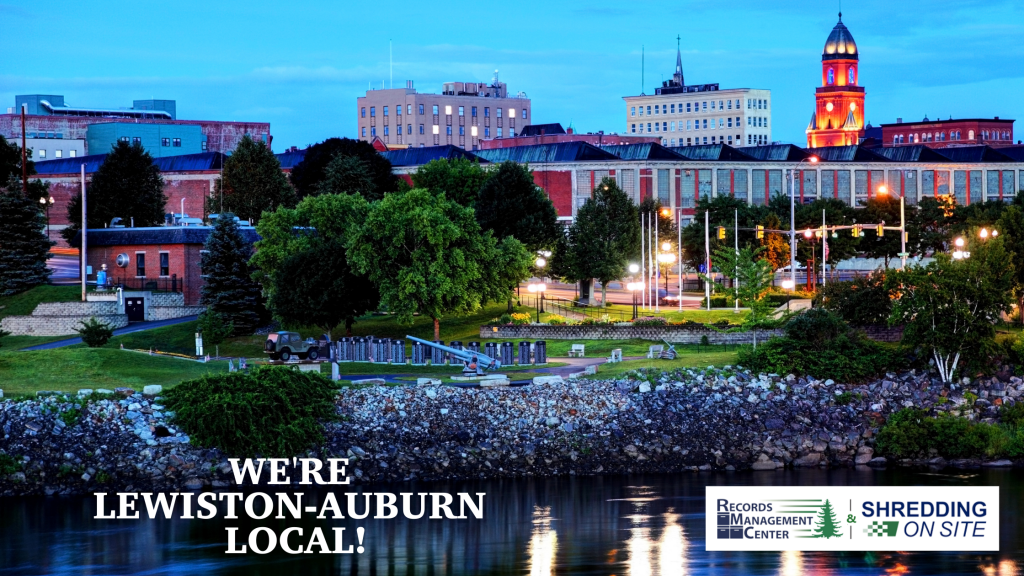 1. Shred for Identity Theft Protection
Your business or organization in Lewiston & Auburn, Maine holds a massive amount of documents containing personal information about your employees, clients, and trade secrets. Shredding outdated or unnecessary paperwork helps protect sensitive information from falling into the wrong hands, precipitating a dangerous and costly data breach. Shredding On-Site makes an ideal solution for organizations requiring immediate or witnessed shredding and destruction of confidential paperwork and documents directly on-premises.
Our secure shredding service is immediate, convenient, and environmentally friendly. Your sensitive information never leaves your sight while being destroyed! One of our specialized, high-capacity mobile shredding trucks comes to your place of business to conveniently conduct certified on-site document shredding, quickly, affordably, and incredibly secure.
Upon completion, Shredding On-Site provides you with a Certificate of Destruction noting the date, time, location, type, volume of materials, and sign-off of the work completed. This allows your organization to maintain verified records for security compliance and industry regulations.
2. Shred for Professional Fraud Prevention
Fraudulent activity centers on companies that house sensitive information. A data breach could lead to disastrous consequences like the loss of client trust, reputation damage, and liability nightmares. Shredding your expired documents and data protects your employees, customers, and the entire organization.
We destroy many forms of information & storage media, including
:
Tax Forms

Bank Statements

Loan Forms

Insurance Documents

Employee Information

Medical Records

Customer Information

Hard Drives and Solid State Drives

Thumb drives, tape drives, and other digital storage devices

And much more!
3. Shred for Security Compliance
Countless regulations require the secure disposal of confidential data. As a NAID AAA-Certified document and hard drive destruction provider, Records Management Center and Shredding On-Site guarantee the effectiveness and security of our paper shredding and media destruction services.
Whether customer files, customer names, account numbers, internal memos, personnel and payroll information, financial documents, technical reports, insurance documents, or medical reports, we thoroughly destroy each document up to the highest standards.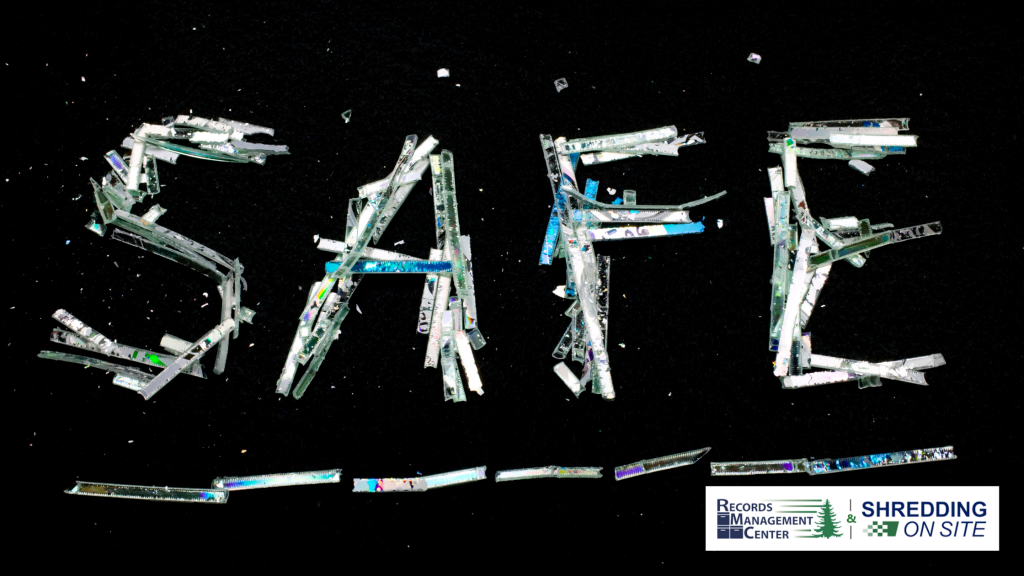 4. Shred to Free Up Space
How much room could office paperwork take up? When in business, you know endless papers in endless files grow into endless boxes. These eventually creep out of their designated storage area into your valuable office space, encroaching on productivity and risking the exposure of confidential information.
Nip that flow of files in the bud!
Records Management Center & Shredding On-Site's ongoing shredding services consist of all-inclusive programs with weekly, bi-weekly, and monthly pick-up schedules. This keeps the stacks of paper, file boxes, and cabinets at bay, protecting your company's workspace and keeping information confidential.
5. Shred for Environmental Sustainability
We can help your business go green! It takes 12 trees to make one ton of paper. Records Management Center & Shredding On-Site recycle all shredded materials when able. In fact, we shred and recycle over 15 tons of our clients' paper products every day. This saves over 100,000 trees annually by recycling shredding paper waste.
6. Shred to Increase Productivity
Standing in front of the one office shredder, feeding it a few pages at a time won't do anything to support company productivity. Additionally, employees spend valuable time trying to determine which pieces of paper should go in the recycle bin and which files should go in the shred bin. Companies waste hundreds and thousands of labor hours a year on these menial tasks.
Initiating a "shred everything" policy at the workplace means that the time your team usually spends sorting destroying sensitive paperwork and files will be redirected into more important, value-added projects. All client or company documents and files, whether confidential or not, simply go into one of our secure shredding bins for regularly scheduled on-site shredding!
7. Shred for Fire Prevention
Excess paper is always a fire hazard. Disposing of documents that would otherwise end up in closets and corners as soon as possible reduces fire hazard risks. Fire hazards reflect on inspections. Keeping the flammable materials to a minimum helps to eliminate added insurance costs and the risk of fire.
8. Shred to Improve Organization
A clean workplace promotes a clean mind! Your office space is supposed to be a place for minds to meet, tasks to be accomplished, and deadlines to be met. It should never be impeded by file boxes, loose documents, or other roadblocks to efficiency.
Regular paper shredding reduces clutter, keeps aesthetics elevated, and promotes efficient use of the space for your workers. Our clean and attractive shredding containers blend into your office to provide a convenient, secure collection point for documents and files you need to destroy.
9. Shred for Peace of Mind
Having someone steal your, or your client's, identity can be catastrophic. Document shredding offers peace of mind! As a NAID AAA-Certified document and hard drive destruction provider, our shredding services are completely confidential and verified.
We provide a Certificate of Destruction upon completion of services verifying the date, time, type, and volume of material destroyed! Our employees are highly trained in security procedures, operational processes, background checked, drug-screened, and independently audited for compliance verification. Rest assured that the best in the business handles and thoroughly destroys your confidential information.
10. Shred for Dependability & Access
As governments worldwide closed non-essential businesses to stem the spread of the Coronavirus (COVID-19), they were fully aware some services are essential to ensure the communities they serve remain protected. Based on a thorough review of the guidance from the U.S. Department of Homeland Security (DHS), New York State, California, as well as sources from the United Kingdom, Italy, and South Korea, information management, IT asset disposal, and secure data destruction comprise "essential services.
Rest assured that Records Management Center & Shredding On-Site provides the best, most economical confidential shredding services to help your business, organization, or practice. The National Association of Information Destruction proudly recognizes Records Management Center & Shredding On-Site as a "member in good standing, dedicated to the advancement of the Information Destruction Industry by promoting education and the highest ethical standards." Get a quote for local paper shredding service & hard drive destruction in Lewiston and Auburn, Maine!