Records Management Center (RMC) has provided secure, dependable, and customer-focused records and information management services to Northern New England for about 20 years. As an independently operated division of Lynco, Inc., we grew from a small records storage warehouse in Bangor, Maine, to a fully integrated data life cycle management business.
Offering complete document management with high-security storage, secure on and off-site shredding services, and high-speed scanning and web-based data management to customers throughout Northern New England. Records Management Center can provide functionality and training to service any office's data retention and management requirements with precision and ease.
Whether you operate a small legal office, financial office, or large insurance facility, we can help. Our expert personnel are trained in handling all types of physical and digital records, from microfiche and microfilm to slides and paraffin blocks to ledgers and billing statements to X-rays and CT scans.
State and federal government agencies approve us. We offer complete confidentiality, state-of-the-art security. Highly trained courier personnel are on-call 24 hours a day, 7 days a week.
Our parent company, Lynco, Inc., and its sister company, Lynch Logistics, Inc., comprise a family of integrated companies focusing on logistics, truckload freight hauling, warehousing, household, commercial moving, secure documents management, and shredding services.
Our family of companies has about 40 years of experience providing integrated logistics services to satisfied customers throughout the United States and Canada. We make it our primary goal to serve our customers safely and reliably on time, every time.
Headquartered in Bangor, Maine and operating a satellite facility out of Lewiston / Auburn, Maine, Lynco, Inc. and Lynch Logistics have the size and capabilities to link Northern New England and the Canadian Maritimes with the rest of North America. All the while, providing the flexibility and tailored experience of a small, fast-paced group of companies. Please visit www.movingme.com for more information.
Our History
We started in 1970 with a single moving truck and a small crew. We have since grown to a fleet of about 50 trucks, 460,000 square feet of warehouse space, and 100 motivated, customer service-oriented team members.
1970 – Established as a local family business. Central Maine Moving & Storage provides Maine with quality service for individual, corporate, industrial, and government relocation.

1978 – Expanded services by becoming an award-winning agent for North American Van Lines, providing worldwide, award-winning moving services, and forming Consolidated Warehouse (now operated under Lynch Logistics) to serve our growing storage customers.

1986 – Lynch Logistics, full-truckload freight transportation, and warehousing business is created under the same ownership to increase capacity for Maine's industrial sector, primarily for the pulp and paper industry. Lynch Logistics operates dry van and flatbed trucking service east of the Mississippi River and in the Maritimes of Canada. It offers warehousing and distribution services for storage-in-transit and cross-docking.

1995 – Based on increased demand for secure file storage, created Records Management Center (RMC) to handle specialized confidential file storage and information management activities for the healthcare sector. RMC quickly expanded into paper shredding, media destruction, document scanning, and dedicated courier services throughout New England.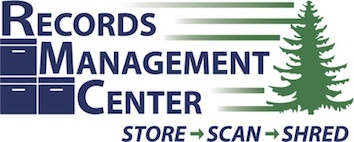 2000's to Today – Continued fleet and warehouse growth among all divisions. We opened a facility in Auburn, Maine, to provide increased Central and Southern Maine coverage. It includes five full-time personnel, inside and outside storage, cross-docking, rail siding, and centralized baling for our mobile shredding fleet.
2016 – Records Management Center and ShredSafe, LLC announce the acquisition of Shredding On Site (SOS) of Waterville, Maine, effective October 1, 2016.
2019 – Aroostook Shredding of Presque Isle, Maine, effective May 1, 2019. Records Management Center assumed operational oversight of Shredding On-Site and Aroostook Shredding while retaining all staff, equipment, and service schedule.
These acquisitions significantly increased the size and scope of our existing NAID AAA Certified on-site and off-site confidential shredding services provided throughout Maine and New Hampshire. They significantly enhance our customers' capabilities. This allows us to provide a wider array of information management and destruction services with greater reach.
Why Records Management Center?
Why Consider Off-site Storage with Records Management Center?
BETTER UTILIZATION of costly office space – Records retention uses valuable office space for non-revenue generating purposes.
REDUCED LABOR COSTS – Employees can spend more time working and less time searching for files.
COMPLETELY CONFIDENTIAL – RMC personnel are trained in risk management and confidentiality procedures to ensure your information stays yours.
COMPLETELY SECURE – Unmarked, locked, and monitored facilities with full-scale disaster recovery plans.
CUSTOMIZED INVENTORY reporting – When your data are stored with us, you will be provided with a physical or digital customized report listing your inventory down to the file (optional).
ON-CALL DELIVERY is our specialty – Your employees no longer need to go to undesirable locations to find the files they require. We can bring records right to you, 24/7.
We employ the best risk management practices in the industry. In these troubling times of uncertainty, risk management and record backup have been a major concern for many businesses, government agencies, and healthcare providers.
Records Management Center helps your organization improve its compliance programs related to federal & state regulations:
Gramm-Leach-Bliley Act (1999) Financial Services Modernization Act
This Federal legislation went into effect in 2000. The privacy provisions in the law require that financial institutions and insurance companies give consumers prior notice of an intention to share personal information and a chance to opt-out of the sharing of such information.
The law states that these institutions and companies need to "respect the privacy of its customers and to protect the security and confidentiality of those customers' non-public information." The language suggested in the Safeguard Rule that paper documents containing such personal information should also be protected and safely destroyed.
The Fair & Accurate Credit Transaction Act (FACTA)
In general, the Act amends the Fair Credit Reporting Act ("FCRA") to enhance consumer reports' accuracy. It allows consumers to exercise greater control regarding the type and amount of marketing solicitations they receive. FACT Act also establishes uniform national standards in key areas of regulation regarding handling and disposal of consumer information in possession of all companies and organizations.
Health Insurance Portability & Accountability Act (HIPAA)
HIPAA was enacted in 1996. The mandatory compliance date was April 14, 2003. All hospitals, doctors, pharmacies, health plans, medical billing companies, and any other business entity involved in the healthcare industry must comply. The rules apply to all protected health information.
The Standard for Privacy of Identifiable Health Information requires that covered entities put administrative, technical, and physical safeguards to protect the privacy of protected health information. One example of a safeguard for the proper disposal of paper documents containing protected health information is that the documents should be shredded before disposal.
Federal Privacy Act of 1974
This law was established in 1974 to ensure government agencies protect individuals' and businesses' privacy about information held by them and hold these agencies liable for any information released without proper authorization.
Economic Espionage Act of 1996 (EEA)
The Economic Espionage Act is a very powerful law. It helps with the enforcement of properly handling information. This law is the first federal law that defines and severely punishes misappropriation and theft of trade secrets.
However, according to this Act, the government only protects companies who take "reasonable measures" to safeguard their information. For more information about us, please contact RMC today at 1-877-752-3609!