Countless regulations are requiring the secure disposal of confidential information. As a NAID AAA-Certified document and hard drive destruction provider, Records Management Center and Shredding On-Site guarantee our paper shredding and media destruction services' effectiveness and security. Whether it be customer files, customer names, account numbers, internal memos, personnel and payroll information, financial documents, technical reports, insurance documents, or medical reports, we will thoroughly destroy each document up to the highest standards. With facilities and terminals in Bangor and Auburn, Maine, we have the capacity to provide consistent, reliable, and affordable destruction services throughout Maine and New Hampshire.
Office Paper Shredding and Recycling
Weekly/Bi-weekly/Monthly Recurring Service Options
File/Document Purging
Hard Drive, Data Tape, Microfiche/Film Destruction
Completely Confidential and Verified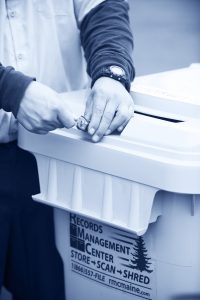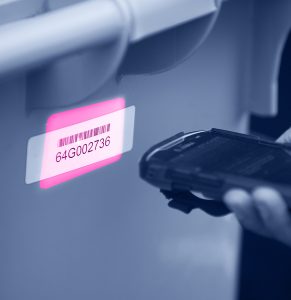 RMC/SOS specializes in shredding and destroying all types of confidential materials. These include, but are not limited to:
Standard Office Paper
File Folders, Envelopes, & Notepads
Client & Account Information
Microfilm/Microfiche
Compact Discs
Hard Drives
Data Tapes and other e-media storage devices
Video Tapes
With terminals in Bangor and Auburn, Maine Records Management Center and Shredding On-Site provide fast, cost-effective, and completely secure NAID AAA-Certified Document Destruction using our on-site or off-site shredding services, including annual purges, at document retention time expiration, or one of our many recurring container programs.
It's worth noting that RMC recycles all shredded materials when able. In fact, we save over 30,000 trees annually by recycling shredding paper waste. We can help your business go green!

Mobile Shredding & Document Destruction
Records Management Center and Shredding On-Site offer NAID AAA Certified shredding on-site to safely and efficiently destroy sensitive and confidential documents and information right at your location. Protect your identity, the identity of your customers and employees, and keep confidential information secure through thorough disposal.
We shred & destroy many forms of information, including:
Tax Forms
Bank Statements
Loan Forms
Insurance Documents
Employee Information
Medical Records
Customer Information
Purges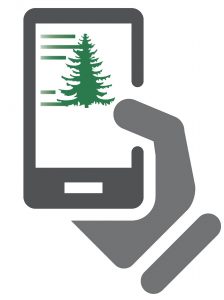 Our mobile shredding trucks will come to your place of business to conveniently conduct on-site document destruction. Contact us today for our rates and coverage area.
The Information Retention Life Cycle
When records are stored with RMC, we ask those pesky questions like the various retention times, expected access frequency, and proposed destruction dates. After all, our job is to manage your records and information.
We provide customers with periodic inventory reports (digital and/or hard copies), which will allow them to view a complete list of files in storage, with start dates, end dates, access history, and destruction dates. This allows the customer to determine what needs to be kept and eliminates files and documents past their retention time.
Specific procedures are followed to safeguard documents and eliminate inadvertent document destruction. We handle all certified destruction activities at our secure shredding facility or through our fleet of mobile shred trucks.
How secure is the RMC Shredding Facility?
Access is granted only through an electronic keypad to uniformed RMC employees with ID badges. Activities are then monitored by surveillance cameras, 24/7/365. We perform drug testing and background checks on employees.
You can rest assured that Records Management Center is here to provide the best, most economical confidential shredding services to help your business, organization, or practice. The National Association of Information Destruction proudly recognizes Records Management Center as a "Member in good standing, dedicated to the advancement of the Information Destruction Industry by promoting education and the highest ethical standards."
What About Daily Office Paper?
RMC has on-going shredding services consisting of all-inclusive programs picked-up weekly, bi-weekly, and monthly schedules. We provide attractively secured bar-coded containers in a variety of different sizes. You can elect to have your documents shredded on-site, at your location, by one of our mobile shred trucks, or off-site at our secure shredding facility.
What Happens If?
Let Records Management Center be part of your disaster recovery program. Any records storage business can state that they hold your files in a warehouse. However, the real question should be, "Can that other records storage business retrieve files when you really need them, without question, 24/7, provide on-site and off-site shredding, schedule courier services throughout Maine and New England, and consult with you to provide the best on and off-site records retention program for your organization?"
At Records Management Center, all key systems such as heating, security, telephone, and computer network are on an automatic generator back-up system. Should there ever be a major catastrophe or power outage, Records Management Center will still be fully operational to provide for our customers when they need it most.
Disclaimer: Destruction of Micro Media and Non-paper Media may be performed by a 3rd party and not performed as a NAID AAA certified service by Records Management Center.