5 Reasons a Recurring Shredding Program is Critical For Your Business
Daily office paper waste can accumulate quickly. Your trash can and recycling bin are not secure nor appropriate destinations for confidential information. Small desk-side shredders are slow, inefficient, and break down often.
Establishing a recurring shredding program with a nationally certified destruction service provider, such as Shredding On-Site, is a much easier, more secure, environmentally friendly, and cost-efficient solution to effectively handle your organization's daily office paper waste.
1. Ensure information privacy & confidentiality.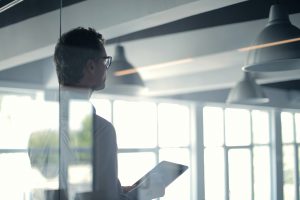 A certified recurring shredding program strengthens your organization's compliance with government and industry

privacy rules and regulations.

With numerous healthcare privacy laws, financial regulations, legal measures, insurance rules, and human resource protections, there are many other legal reasons to ensure a thorough destruction program is in place. In short, it's the law!

With Shredding On-Site's mobile recurring shredding service, you can even view the entire destruction process from start to finish, since we shred the documents right at your location. An extra layer of security and compliance verification!

Shredding On-Site creates a Certificate of Destruction upon completion of each recurring shredding service to provide proof that your organization uses proper safeguards to protect confidential data. We also provide an online web portal, ClientWeb, to give you immediate access to historical work orders, invoices, and to even schedule a service request!

Because of Shredding On-Site's AAA Certification through the National Association of Information Destruction (NAID) for the secure destruction of paper and hard drives, you can rest assured that we meet all the requirements to ensure a safe, compliant, and totally secure destruction process.
2. Protect customers & employees!
Your business trade secrets need to stay secret, but you also have to pay close attention to maintaining the security and privacy of customer files, documents, and data along with confidential records of your organization's key asset, your employees.

With a SHRED EVERYTHING policy in place, your organization can feel assured all documents and important data, including customer and employee data, responsibly handled and securely destroyed.
3. Save time & money!
Small desk-side shredders are slow and break down often. Larger office shredders are expensive and cumbersome to use, not to mention maintenance costs. A recurring shredding program replaces all of that at a lower upfront cost for proven long-term value and savings!

There's no reason for employees to waste time at small desk-side shredders, feeding three sheets of paper at a time. Refocus your staff on value-added work. With a recurring shredding program and secure shredding bins placed throughout your office, your staff can quickly and easily dispose of documents without the hassle of a desk-side shredder breaking down. Just drop it in the locked shredding bin!

With multiple sizes and types of secure shredding containers, from small locking desk-side bins to attractive office consoles to larger volume shredding bins, we provide equipment to fit your office layout and workflow while staying out of the way to allow you to better utilize valuable office space.
4. A recurring shredding program simplifies the document disposal process.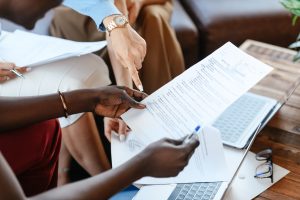 Just set it and forget it! Once you establish a recurring shredding program, whether weekly, monthly, or otherwise, we provide you a service calendar upfront. We arrive right on schedule to ensure your document destruction timelines and requirements are met.

Since Shredding On-Site promotes the SHRED EVERYTHING policy, there's no reason for staff to decide on the spot which paperwork should go in the recycle bin, which to shredded, and whether staples need to be removed before disposal. Just put all paper documents into the secure shredding bins. No need to remove staples or paperclips! Shredding On-Site shreds it all in our state-of-the-art, high-capacity mobile shredding trucks.

By adopting a SHRED EVERYTHING policy, your business removes the decision point of "confidential" versus "not confidential" when an employee disposes of a document, sticky note, letter, envelope, or notepaper. Your staff won't have the chance to make the wrong choice when all paper goes into the secure shredding bin!
5. A recurring shredding program is environmentally friendly!
Because we recycle all shredded material, this is another reason to stop sorting between "recycle" and "shred" bins. It's a two-for-one deal for shredding and recycling!
Shredding On-Site and Records Management Center recycle all shredded paper products produced by your office, giving your organization peace of mind that you're doing the right thing for the environment. In fact, we shred and recycle millions of pounds of paper every year!
Get a Quote Today!