Document scanning and digital imaging are terms often used interchangeably with distinctly different functions.
Here are a few ways to differentiate these services:
The Difference Between Document Scanning & Digital Imaging
Are document scanning and digital imaging really so different? Believe it or not, they are actually completely separate processes for converting a physical document into a digital file. The most notable difference between document scanning and digital imaging is that document scanning makes a digital copy of an existing file as-is. Whereas digital imaging offers the opportunity to alter information on the file after being scanned to digital format.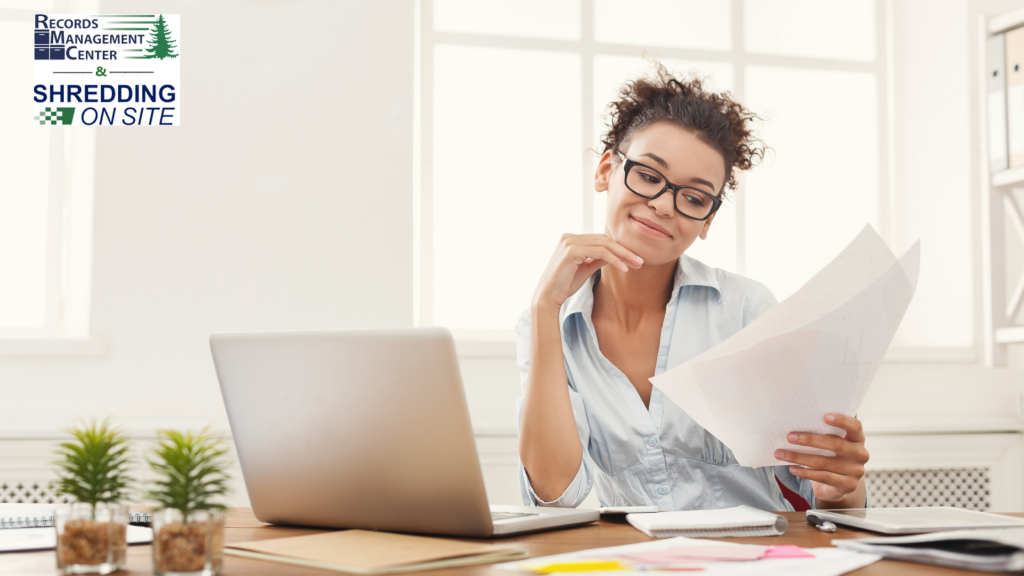 What is Document Scanning?
Document scanning is exactly what it sounds like. The professional version is a streamlined, upgraded version of what you may have done at home! When a document is scanned, it is copied to a digital format. Then, it is stored on a computer folder or database. It's much like taking a picture with a camera or smartphone.
What is Digital Imaging?
Digital imaging uses the scanned image as a workable document. This means that you can edit or otherwise modify it beyond its original static state.
How Document Scanning & Digital Imaging Benefits Your Company
Improved business processes

– Faster access to and retrieval of documents and information mean quicker turnaround time on tasks.

Better-informed decisions –

Quicker access to the right information results in streamlined meetings and informed consultations.

Better service delivery

– With relevant information at your fingertips from a desktop computer or mobile device, your clients end up with the best possible service.

Increased efficiency

– Less staff time spent looking for data with fewer information silos and greater searchability.

Mitigation of business and reputation risk –

Improved business continuity creates a consistent, unified and optimized company with efficient internal and external communication.

Cost savings –

Less creation, storage, retrieval, and handling of paper records means reduced costs and improved operational efficiencies.
Records Management Center Helps You Convert to Digital
Now that you know the business benefits of converting your paper documents into digital files, let's go a step further! By incorporating document scanning and digital imaging services into your organization's daily workflow, you enhance nearly every aspect of your operations and customer service.
A few document scanning & digital imaging services we can provide your organization:
Daily or Day-Forward Scanning –

Records Management Center's couriers pick up newly created paperwork and files on a regularly scheduled basis and our scanning department converts the documents to digital format on quick turnaround to assist with digital workflow management.

Archive Scanning –

Large conversion projects of all sizes from 10,000 sheets of paper to over 10 million+ documents. Converted data can be stored on Records Management Center's internal secure servers, in the cloud, or locally on the client's network.

Scan On Demand –

For clients that store hard copy files in Records Management Center's secure records center or during a large scanning project. If you request a hard copy file, we immediately pull and scan the file. Then, we send a digital copy electronically through a secure file sharing service.

Customizable Filename Structure –

RMC can uniquely index and structure scanned digital files to fit the client's database management or ECM systems, including the creation of batch import files.

Optical Character Recognition (OCR) Processing –

Post-processing of scanned documents that allows words and characters within a digital file to be searchable. Improves the searchability and accessibility of digital files.

Quality Control Assurance –

Records Management Center reviews and Quality Control checks scanned documents throughout the scanning process, starting at the document prep stage, through the scanning and indexing process, and finally with dedicated quality control technicians.

Large Format Document & Map Scanning –

Records Management Center can scan documents up to 42″ wide and of continuous lengths, such as maps, blueprints, or engineering plans.

Microfilm & Microfiche Conversion –

Specialized equipment quickly scans microfilm rolls and microfiche slides to digital format for easier access, searchability, and viewing from a computer or mobile device.

Electronic File Transfer –

Records Management Center can deliver data electronically over secure FTP, VPN, or encrypted email transfer, by an encrypted hard drive, or electronic storage device rotations.

Secure Online Web Portal (ClientWeb) –

Records Management Center's proprietary secure online web-based portal for inventory management and access to digital copies of files. You have secure access, customized user rights, inventory ordering and tracking, instant accessibility, and 24/7 availability.

Secure Storage of Hard Copies –

After scanning completion and data delivery, Records Management Center stores physical files to allow time for clients to review our work. After review, RMC can transition the hard files to permanent storage within our secure record center, deliver the hard copies back to the client, or provide Nationally Certified document destruction.

Electronic File Back-up –

Records Management Center keeps an offline copy of all scanned data files in our secure data vault in the event that unforeseen disaster corrupts or destroys the data.
Have Documents to Scan?
Leverage Records Management Center's scanning experts, processes, and infrastructure to convert physical documents taking up valuable space to digital format through our document scanning and imaging center.
Would Document Scanning or Digital Imaging Assist Your Business?
Click here to get a quote, or call our office at 207-990-4636!