Records Management Center of Bangor, Maine, is pleased to announce the acquisition of Aroostook Shredding of Presque Isle, Maine.
Effective May 1, 2019, Records Management Center assumed all certified document and e-media destruction and recycling operations of Aroostook Shredding. Our team quickly and seamlessly integrated destruction services previously provided by Aroostook Shredding under Records Management Center (RMC).
To Our New Customers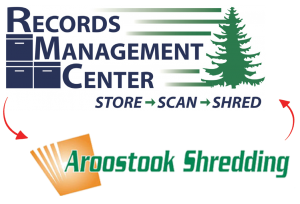 You will continue to work with trusted, trained, and certified destruction professionals at the scheduling and service arrangements that work best for you.
RMC's secure destruction services meet and exceed the strict security standards set by the National Association of Information Destruction's AAA Certification program.
In addition to certified shredding services, RMC can help your organization mitigate privacy risks, improve access to records and data, and reduce overhead costs by offering customized high-speed document scanning and off-site records and data storage solutions.
To schedule shredding service or request a quote for an upcoming destruction project, CLICK HERE TO SUBMIT A QUOTE REQUEST.
"Our team at RMC is very grateful to our customers who have trusted in our company for confidential shredding, secure file storage, and document scanning, and we greatly appreciate the partnership." – Thank you!
For further details or questions, please contact Records Management Center at 207-990-4636 or [email protected].